The Legacy
August 6th, 2012 by Katherine Moller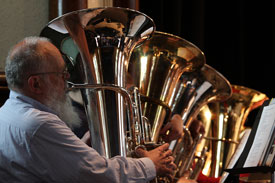 Well, as many of you know, my father passed away on August 1st, 2011. It has been quite a year since then with all of what I would imagine to be the usual ups and downs…
We've been through so many of the firsts that you go through… The first trip to the family camp, the first rehearsal of groups that he used to play with, the first concert without my dad in the audience… So many! We have made it though! We are still here, and we have figured out many of the things that only my dad knew how to do.
So, my dad's influence can be seen in lots of places in our lives, but there is one really big place that we will all be able to see my dad's legacy! As you may remember, Mom and I hosted one last TubaFest in memory of Dad. Thankfully two local guys and the UNB Centre for Musical have taken the festival over and are working on the details for next year. They have been lining up some excellent clinicians and I feel confident that it will be a great event!
I am delighted that someone has taken over this unique event and will be continuing it! It was Dad's passion and his big project both before and after retirement!
All in all, even though there are times through the year that have been hard, it has been a great year, filled with wonderful events that would have made my dad happy. I am sure he would also be delighted to see that TubaFest is continuing! Mark your calendars for May 3rd and 4th, 2013.