Lunch with Gen
July 20th, 2012 by Katherine Moller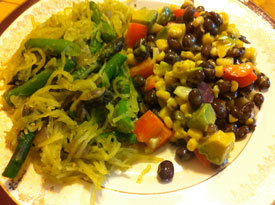 One of my best friends and I have lunch together every week. We used to go out for "girls night out" together… That then became "girls after work" together… Then it became "girls lunch at Pizza Delight"… Now it has become "let's go for a walk, cook food for each other and drink tea." It's a pretty wild life that I lead! We take turns cooking and it has been a lot of fun trying out different recipes!
So, what to cook… I have been (and I hate to admit this) spending a lot of time on Pinterest looking for ideas.
I picked out three recipes, two of which are pretty similar… black beans, red pepper and avocado feature in both. After going grocery shopping, I decided on two recipes, the black bean avocado salad and spaghetti squash with asparagus.
I had purchased a spaghetti squash a couple of weeks ago and had not cooked it because I was not quite sure what to do… I was really surprised to see that the flesh of the squash looked completely "normal". Having found this recipe (on Pinterest) I decided to give it a whirl. It turned out pretty well. I had expected it to look like spaghetti when I opened it up. I had no clue that you had to tease the flesh out with a form to get the "noodles".
As far as the recipe goes, on the site I got it from there is also a recipe for homemade pesto. I decided to buy some premade pesto from the store instead of making my own, so I have omitted that part of the recipe.
Spaghetti Squash with Veggies and Pesto
Ingredients:
1 medium spaghetti squash, halved and seeded
3/4 pound asparagus, cut into thirds
1 cup mushrooms, chopped
1 onion, chopped
1 tablespoon olive oil
Dashes of salt and pepper
1-2 Tbs of pesto
Directions:
Preheat the oven to 375F. Place the squash flesh side down in a jelly roll pan. Fill the pan with 1/2 inch water. Bake squash for at least 35 – 40 minutes, or until you can easily pull the "noodles" out with a fork. Let cool for 5 minutes.
While squash bakes, prepare veggies. Heat olive oil in a medium pan over medium high heat. Add onions and cook until just translucent, about 3 minutes. Add in mushrooms and asparagus and cook until asparagus is soft, about 5 more minutes. Remove from heat.
Once squash has cooled, carefully pull the flesh from the squash using a fork [this will give you the noodles]. Place in a bowl. Add in veggies and mix up with a tong. Add 1 – 2 tablespoons of pesto, stir and enjoy!
A while ago Gen had posted a photo on Facebook of an avocado dish she had made. That sent me immediately to Google to find a recipe for avocado salad. This was the big hit of the meal! So tasty! How can you really go wrong with avocado, red pepper, red onion, corn and black beans. The dressing is perhaps the key. The only changes to the recipe that I made were that I used canned corn and as far as the mustard for the dressing I used honey mustard. That is the only mustard that we have available at our house.
Black Bean Avocado Salad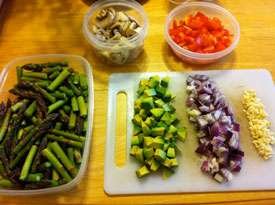 Ingredients:
1/4 cup (60 mL) extra-virgin olive oil
2 tbsp (30 mL) lemon juice
1 tbsp (15 mL) grainy mustard
1/4 tsp (1 mL) salt
1/4 tsp (1 mL) pepper
1 can (19 oz/540 mL) black beans
1/2 cup (125 mL) chopped red onions
1/2 cup (125 mL) frozen corn, thawed
1 sweet red pepper, chopped
1 avocado, peeled and chopped
1 clove garlic, minced
2 tbsp (30 mL) chopped fresh coriander
Directions:
In large serving bowl, whisk extra-virgin olive oil, lemon juice, mustard, salt and pepper.
Add black beans, red onion, corn, red pepper, avocado, garlic and coriander. Toss to combine.