About
Celtic fiddle with a classical twist: the heart and soul of a fiddler, the artistry and finesse of a classical violinist.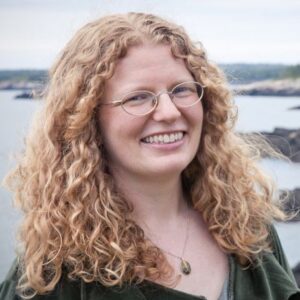 Award-winning fiddler Katherine Moller is one of New Brunswick's most versatile musicians.  Her music brings together the highlands of Scotland, the lush greens of Ireland, and the majesty of the Saint John River Valley.  Whether she is playing traditional fiddle tunes in a crowded pub or the music of Bach on a concert stage, her love and respect for the instrument and its widespread appeal have brought her considerable acclaim as one of the province's true fiddle ambassadors.
Katherine's musical journey began with classical violin lessons and playing in various community orchestras.  Through her father's influence, she fell in love with fiddle music and spent many summers in Cape Breton learning to make her fiddling more authentic.  Katherine studied music at McGill University where she was introduced to baroque music.  Having found that her father had a baroque violin in his violin collection, Katherine had it restored and pursued playing music from the 16th and 17th centuries.  Following university, Katherine received a grant from the Canada Council for the Arts to study fiddle in Ireland.  Katherine is a member of Symphony NB, plays baroque music in various ensembles with the Early Music Studio of Saint John, and has an active career in Celtic music having released 6 solo albums and one album with her four-piece band Different Folk.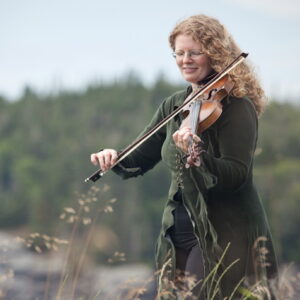 Through the years Katherine has transitioned from playing mostly traditional fiddle music to mostly original compositions.  In the past, Katherine kept her three musical styles quite separate but recently has been embracing her unique history and skills.  When you listen to Katherine's original fiddle tunes you can hear the influences of both her classical and baroque experience.
"An award-winning teacher and performer, Moller is one of the few traditional musicians around to successfully bridge the gap between classical and Celtic playing styles…  with the release of "Storm Queen" (2017), Moller affirms her role as one of the province's most innovative and important purveyors of contemporary Celtic music," says Matt Carter of Gridcity Magazine.
Katherine is quick to embrace new technology and began performing livestream shows on Facebook in 2016.  After several years of support from her fans, Katherine and guitarist Tom Richards recorded an album of tunes selected by their Facebook Live fans in 2020 entitled "Tea & Tunes."  In this album, Katherine returned to her roots of playing both original and traditional fiddle tunes.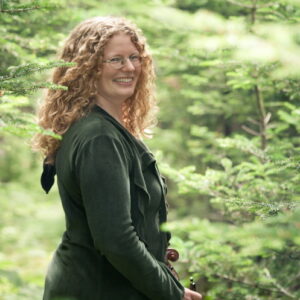 Beyond her performances and recordings, Katherine is also an active teacher.  She worked with many schools to offer programs to students as well as operating a private violin/fiddle studio.  Through the Covid-19 pandemic, Katherine expanded her teaching online and now runs a thriving fiddle school offering programs to students around the world.  She has students from across Canada, the US, Ireland, Germany, New Zealand, and Australia.  Katherine was recognized by Music NB as Educator of the Year in 2015.
Katherine Moller is truly the master of four strings and a bow!