Tips & Tricks: When to practice
August 29th, 2012 by Katherine Moller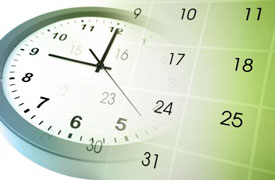 With the school year just about to start again, my mind has turned to practicing. I know fitting this in is always a struggle for busy people! When should you practice? As we've seen in other posts, it is best if you practice every day, but when in the day should you fit it in? The answer to this will vary from person to person…
The best thing to do is to find a time of day and stick to it. If you practice in the morning one day, in the evening another day, and just kind of whenever it fits in, it won't be a routine, and you are more likely to skip… Something we know for sure that you don't want to do! It becomes so easy once you skip your first day to then skip a second, maybe a third… and then the whole week has passed with no practice!
Personally, I like to practice in the morning. I have two big reasons for that:
I am a morning person. I focus better in the morning and do my best work then.
I am less likely to skip practicing. If my day gets busy and I run out of time, usually it means that my dishes aren't done, but my practicing cannot be compromised.
I actually started practicing in the morning when I was in high school. In high school I was in four orchestras and three bands, took private lessons on oboe and violin and was a peer tutor. My after school and evening times were taken up with rehearsals and homework, so morning was the one time that I knew I could have uninterrupted time to practice.
So, my suggestion to you is not necessarily that you practice in the morning, but rather that you find a time of day when you can focus, when you are not too tired, when you can practice uninterrupted, and that can become routine. Once you build this time into your routine it will not feel as much like work as when you are having to try to fit it in among all of the other things you have to do in your busy day.
Happy practicing!