Tips & Tricks: When should you quit playing the violin?
January 19th, 2015 by Katherine Moller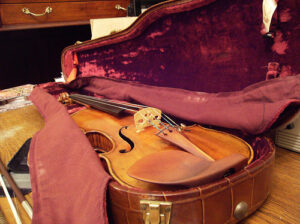 Just before Christmas I had a breakthrough with one of my students. He is a lovely boy who is in his fourth year of taking lessons. He started in a school program, and after a year decided to take private lessons. We were working on Christmas music; he played one of his pieces, and I could see his mother looking in the window to see who was playing. This was a great moment! After the lesson I talked to her and she commented that she and her husband had been wondering if they were wasting their money and my time with lessons, but now we all felt like it had come together. I love that moment when it all finally comes together and really starts sounding like music!
Often I have students, especially adults, ask me when they should quit. "Is there any hope for me, or should I just quit?" The truth is that I have only ever told one student in all my years of teaching that he should quit, and I actually told him to go try another instrument. He had an amazing ear, so music was in his future, but not the violin. Everyone learns at a different rate, and that magic moment where everything starts clicking takes place at a different time for each person, so there is no easy answer.
As a guideline, I like my young students to give violin at least a year trial, ideally more, but at least a year. For adults, my answer is always the same "If you are still enjoying playing, there is no reason for you to quit." In the end, that is what it is all about. Sure we all want to improve, but there is no requirement for all of us to be virtuoso musicians. There is also no requirement, or guarantee for that matter, that we will all progress at the same rate. Enjoying yourself is what music is all about. It will be hard work at times, it will be frustrating at times, but as long as you still are getting enjoyment out of music, I encourage you to keep going!
photo credit: RShinozaki via photopin cc