Greetings to a New Year!
January 5th, 2015 by Katherine Moller
I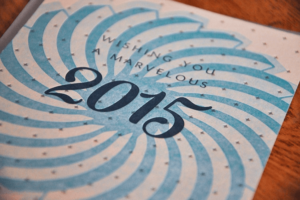 love the beginning of a new year. I love the feeling of starting over again and the chance to look back at the year that was. Here are the highlights from 2014:
Professional:
Was nominated for 5 Music NB Awards!
Won the Music NB Award for Roots/Traditional Recording of the Year!
Finished the fiddle tune book "Greensleeves & Puddin' Pies".
Have continued with a successful career of teaching and performing.
Personal:
Have started working out regularly. I actually started in the fall of 2013, but due to various family emergencies, ended up taking time off from Jan. to June. Since June, I have been attending Pilates classes on a regular basis, and am loving it!
Have been more active as far as just walking. I did not achieve my goal of walking 2014 km in 2014, but am still pleased with the amount of walking that I did.
Going to bed at a reasonable hour. I often get caught up in something, or sometimes just don't feel like going to bed, so would find myself still awake at 2am having to teach the next day. Also, I would pull late-nighters (I am no longer in my 20s, so all-nighters do not happen anymore) to finish projects. Since September I have been going to bed at 10:30 and have been feeling much better for it.
Less screen time. In the past year we have had two large storms that knocked out power for almost a week each time. My husband and I spent much more time together playing card games instead of watching movies. Since the last storm in August, we have been purposely spending more time sitting at our kitchen table playing games, and less time in front of the TV.
So, what does 2015 hold in store?
Professional:
Getting back into working on my violin technique. I have practiced this past year, but mostly spent time learning music to perform. It is time to get back to basics!
Work on getting my music placed in movies/TV. This was a goal back in 2013 that got pushed aside for me to record "Greensleeves & Puddin' Pies".
Launch an online fiddle class. I am aiming to have this start up in March, just in time for St. Paddy's day! Stay tuned for more details!
Launch more group lesson in my private teaching studio in the fall.
Personal:
Continue going to Pilates classes 2-3 times a week.
Walk 2015km in 2015… Time to try again! Hopefully I will get closer this year!
Read more books! The goal is one fiction and one non-fiction a month. I love to read, but get caught up in movies and the computer…
And, here is the biggest goal of all:
Tour Ireland! It is time I think to head off and do a proper tour of Ireland.
I wish you all the best for 2015 and will keep you posted as the year goes on how all of these goals are going!
Comments are closed.