The Mystery of Social Media
March 17th, 2012 by Katherine Moller
Tweet, update, blog, pin… As with many people now, these are all activities that occupy a part of my time, generally every day. I am involved in social media, and have been for several years now, but still find it to be a bit of a mystery!
For me, all of this activity is part pleasure, and part business. I love being a voyeur and seeing what some of my high school friends are up to now on Facebook. These are people that I never would have kept in touch with had we needed to write letters, e-mail, or make phone calls. But, still, even though I love it, I don't totally understand. I also find it interesting connect with new people that I have never met!
I am currently taking a course with Cari Cole on how to fast forward my career, and one of the many things we have talked about is social media, being active on it, and reaching lots of people. I just never know what posts/pins/blogs are going to generate interest. I try to put up things about music, about life, about people who inspire me, things that I think are funny, and I can never tell what will hit a nerve. Many of the posts that I think are really interesting seem to be completely ignored, although the fact that nobody has retweeted, liked, commented or repined does not mean that it has not been read…
Yesterday is a perfect example. I had baked cookies for my string students at LHHS, but school was cancelled, so I did not see them. I posted on Facebook that I was going to get to stay home and eat all of my cookies. For a lark, I took a picture with my iPhone and posted it to Facebook… Well, that post got a lot of interest! Part of the reason is that they were ginger molasses cookies made with Quinoa flour, and also, I guess just the fact that we all like cookies…
So, I guess, for me, I will just keep putting things out there into the world and watch with interest what garners attention.
You can connect with me on Twitter, Facebook, Pinterest and you have already visited my blog!
Ginger-Molasses Cookies
[adapted from Quinoa 365: The Everyday Superfood]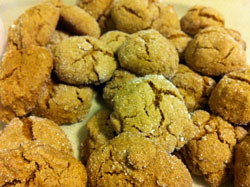 1/2 cup applesauce
1 cup packed brown sugar
1 Tlb ground flax meal blended with 3 Tlb water
1/4 cup molasses
Cream applesauce and brown sugar in a large bowl. Beat in blended flax meal and molasses, set aside.
2 cups quinoa flour
2 tsp baking soda
1/2 tsp salt
1 tsp ground ginger
2 tsp ground cinnamon
1/2 tsp ground cloves
1/4 white sugar
Mix flour, baking soda, salt, ginger, cinnamon and cloves. Add butter mixture and mix until a smooth dough forms.
Roll the dough into small balls. Place white sugar in a shallow dish and coat the balls of dough with sugar. Place balls 2 inches apart on a cookie sheet and cook for 8-10 minutes at 350F. The bottoms of the cookies should be lightly browned.