Tips & Tricks: Playing Gigs Outdoors – What Should be in Your Gig Bag?
July 9th, 2013 by Katherine Moller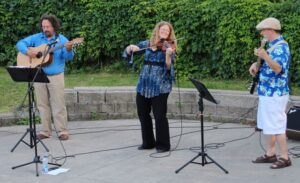 These past couple of weeks I have been performing outside, both at weddings and at summer concerts.  I love playing music outdoors!  This got me thinking about the kind of equipment that you need to have for playing music outside.
1.  A good music stand that is stable
2.  Wind irons, clothes pins, or magnets (if they will stick to your music stand)
There is always the danger of your music flying off your music stand, or your pages may turn at inopportune moments.  It is always important to clip your music even when it seems that there is no wind as even the slightest breeze at the right angle can turn a page.  Wind irons are clips with long pieces of plexiglass attached.  You can hold down the whole side of a piece of music with one of these clips, so I use two so I can clip down each side of the music.
3.  Sunblock
I am very fair skinned, so burn very easily.  I always try to perform in the shade, especially if I am going to be performing for a long time.  This is not only for my sake, but also for the sake of my violin.  Sunblock is important for those times that I can't avoid being in the sun.
4.  Insect repellent
This is especially important if you have to set up on the grass or if you are playing around dusk.
Please leave a comment if there is anything else you like to keep in your gig bag for outdoor performances.