Tips and Tricks: 7 Steps to Making the Best Use of Your Recording Time
November 23rd, 2015 by Katherine Moller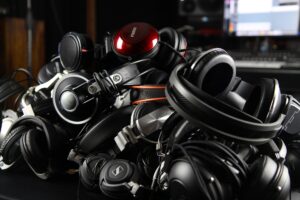 This past Friday, my new band Atlantis was in the recording studio laying down some tracks. We had a great day and got a lot done.
1. Be prepared for varying temperatures. This past weekend I needed a sweater in the studio, but I have also recorded when it was really hot. Layers are your friend.
2. Take breaks. Recording is hard work, so it is important to take breaks so that you can recharge and do your best work.
3. Tune often. My partner and I re-tuned before every new track.
4. Bring snacks. I mentioned this in my last blog as well. This past weekend I packed what I thought was way too much food, but I went through it all. Snack breaks are great for refreshing yourself in-between takes.
5. Drink lots of water. Keeping yourself hydrated is always a good idea.
6. Be picky and make sure that you are happy with the tracks. It is really important that you are satisfied because the recording is going to be around for a long time.
7. Understand that there will always be a killer of a track. Every time I have gone to the studio I have had a track that was difficult to record. Take your time, and be forgiving to yourself.
We will be going back into the studio in January to record some more tracks so we can release a collection of wedding songs in February or March.
Comments are closed.