The Nerves Never Go Away Completely
June 20th, 2019 by admin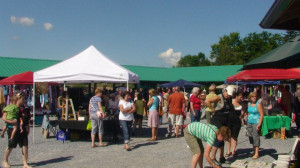 This past weekend I did some busking at the Kingston Farmers' Market just outside of Saint John. I have been busking now for close to 20 years. I have busked on the streets of Victoria, BC (my first ever busking experience), Galway, Ireland, at a gas station outside of Fredericton, NB, and at farmers' markets in Fredericton, NB and in St. Andrews, NB.
I remember the first time that I busked. I got a license, read all of the rules, and then headed out onto the streets. I remember walking past various spots that I could busk, and not stopping. I remember it taking a lot time to work up my nerve to actually set up and start playing! I remember feeling awkward about salting my own case with money.
Now I have busked many times at markets in Fredericton and St. Andrews. I am familiar with these spaces and have set up many times, so I now find it easy to set up and get going.
Because of that fact, I was surprised when I felt nervous when I got to the Kingston Farmers' Market this past weekend. I got there, walked around, found out where I was going to be playing, and felt like getting back in my car and driving off. I did not. I stayed and played as planned! It was fun, as it always is!
I love how immediate busking is! I love the direct interaction with the listeners and the fact there is no separation created by being on a stage. I also love playing for, and interacting with kids! So much fun!
I am happy that I stayed, and really never considered leaving, but it was interesting having those feelings again like it was the first time I had even gone busking! In some ways, I guess those nerves never go away completely!
Comments are closed.