The Legacy Project: Selecting the Music
May 15th, 2013 by Katherine Moller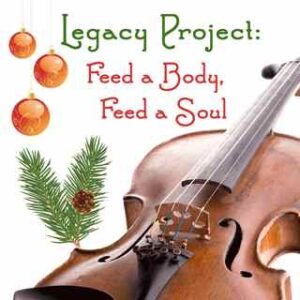 Here we are about a month into the Legacy project.  So far we have had two fundraisers and I have picked the music for the CD.  I thought you might be interested in hearing about the process of picking the pieces.
When I first decided to record a CD of Christmas music, there were a few pieces that I immediately wanted to include.  These include Leroy Anderson's "Sleigh Ride", a great arrangement of "Jingle Bells" for fiddles, "Christmas in Killarney" and "Greensleeves".  I like to play an arrangement of "Greensleeves" that moves from a slow piece to a jig tempo.  This is one of my favourite Christmas pieces!
The next group of tunes that I have decided to include is a selection of my own compositions.  I have been work-shopping these pieces with guitarist Tom Richards over the last few months.  It has been a lot of fun putting sets together and trying out pieces that I hadn't played in a while.  One my compositions that I am going to include is called "The Legacy", a tune I wrote for my father.  This piece is also the namesake of this project.
Finally, I will also be including traditional fiddle tunes related to winter or Christmas.  I have been spending quite a bit of time going through my books of fiddle tunes trying out pieces that look like they might fit the bill.  They certainly have not all made the cut as they didn't all work in medleys, but I am including such tunes as "Sound of Sleet",  "Frost and Snow", and "Frost is All Over" among others.
Having recorded before, I have come up with a couple of extra sets of music.  On all of my other recordings I have always cut some pieces in the studio, so I like to have a bit more going in than what I actually want in the end.
Getting all of this music together is really exciting and I am looking forward to getting back into the studio soon!
If you have any suggestions of great fiddle tunes related to Christmas that I should consider, please leave a comment below.