The Legacy Project: Next steps – Editing, Images, Text
September 2nd, 2013 by Katherine Moller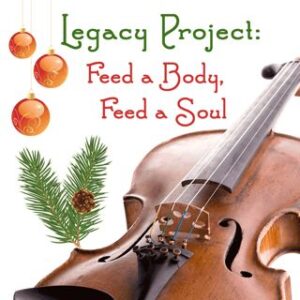 "Greensleeves & Puddin' Pies" is moving right along!  I went into the studio in July to record my tracks as well as the guitar tracks (by Skip Holmes) for the CD.  In August, the bass tracks were recorded, so now we are on to the next steps:  editing the tracks, finding images, and writing the text.
I have a rough mix of the fiddle and guitar tracks, but have not yet heard the tracks with bass.  I am excited to see what Danny Crain has added to the music!  Within the next couple of weeks we'll be editing and mixing the tracks.
I have been thinking about what to do for the images for the CD.  For all of my past CDs I have done a new photo shoot, but it is hard to do a Christmas photo shoot in the summer.  I recently ran into a friend of mine who is a professional photographer, and I have decided to use some of his seasonal photos for the graphics.  There is also a photo of my dad that I would like to use, but I have to get permission to use it, so that is on my list of things to do.
I have also just started writing the text for the CD.  I have to send the CD off for reproduction by the beginning of October, so need to get the text and images together.  I'll be having Outreach Productions design the CD layout, so I need to leave enough time for that to happen.
Things are definitely coming together!