The Legacy Project: Feed a Body, Feed a Soul – Recording a Christmas CD of Fiddle Music
April 16th, 2013 by admin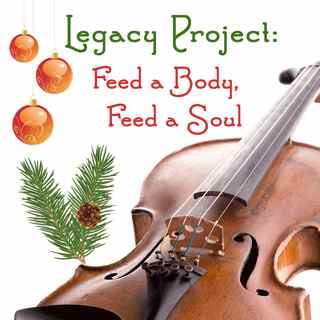 One of my goals for 2013 was to find a way to give back to the community.  Some might say that I do so by teaching children how to play the violin/fiddle.  Some might say that I do that by performing music and taking some of my groups into retirement homes and hospitals.  I have never felt like those are completely selfless acts as they are part of my business.  I accept money for teaching lessons, and though I am not paid to take my groups to retirement home, I am still paid for running the groups.
This is the year that I give back to my community in what I hope will be a big way!  I have been trying to figure out what to do.  I don't have a lot of time to give away with volunteering, and I don't like to undercut other musicians by performing for free, so what now?  I am going to be recording a CD of Christmas music this year, selling it, and donating the proceeds to the local food banks through CBC Fredericton's "Feed a Family" campaign.  I am excited to be working on this project and hope to be able to parley my time and effort into far more money for the food banks than I could afford to donate on my own.
So why call it "The Legacy Project:  Feed a Body, Feed a Soul"?  Let's start with the legacy part of this.  My father passed away in 2011.  He was a botanist, but was also very involved in music and had a large impact on the local music scene.  Since he passed away, I have wanted to do something in his memory, but nothing every really felt right.  We used to do family concerts to raise money for charity, so this idea of using music to raise money for a local organization felt right.  This project is in his memory, and I am hoping will become in a way part of his musical legacy in Fredericton, NB.
The "Feed a Body, Feed a Soul" part of the title has to do with the fact that we are raising money to help the local food banks.  In this way we will be feeding a body, or hopefully many bodies.  Music is said to be the food of the soul, so the fact of recording this CD will hopefully help feed the souls of all those that listen to it.
There will be many steps along this process.  I have decided to return to Outreach Productions to record and am grateful to them for agreeing to sponsor this project.  With their sponsorship, we will be able to raise more money for the food banks!
So how can you help?  I am holding a fundraising concert/launching the project on Friday, April 19th in Fredericton, NB at the Charlotte St. Arts Centre (732 Charlotte St.) at 7:30pm.  Many of my musical friends including Derrick Miller, SONAS, Different Folk and Tom Richards have agreed to come perform through the evening.  There will be not cover charge, however I am hoping that you will all come along with your wallets and donate.  Together we can make this project truly great!