The Legacy Project: Continuing the Search for Funding!
June 10th, 2013 by Katherine Moller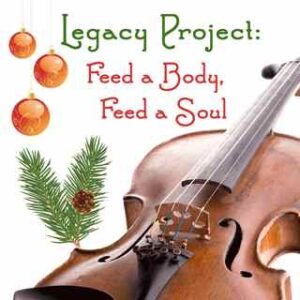 Summer is almost here, so I will soon be going into the studio to record my Christmas CD, but before then, I am still looking to raise more money.  I currently have raised enough money to cover most of the studio time/mixing/mastering, but am looking to raise money for the design and reproduction of the CD.  As is the case with many musicians, I am turning to the internet to try to raise the final funds.  I will be launching a Pledge Music campaign this coming Sunday, June 16th (father's day) and am in the process of finalizing my incentives.
Several of my friends have raised, or are raising money, through these on-line campaigns, and we all have the same debates.  By doing this are we simply begging for money?  Is it appropriate to ask your fans to fund a recording?  We all have to fight through these questions and figure out our own answers.  In the end, I have decided that since I am offering incentives in exchange for donations, so it is not simply begging.
A lot more thought needed than one might expect needs to go into designing one of these campaigns.  I am sure that I will learn that I have forgotten some things as we move forward.  Here are questions I have had in my mind:
1.  Should I use a platform that is out there, or try to do this all on my own?
There are all kinds of platforms out there such as Kickstarter, PledgeMusic, Indiegogo, and others, that will help you to raise money for your projects, however, it would be possible to raise money setting up a donate button on your own site.  I have decided to go with an established platform as I feel that it raises the prestige of the project.
2.  What platform should I use?
There are so many platforms out there that help with fan funding, that.  I am going with PledgeMusic because I can use it in Canada and can also raise money for a fundraising activity.  There are limits to all of the platforms as to the types of projects that are allowed.
3. How much money can I raise? 
The amount of money you can raise depends on how big your fan base is.  Right now, I have a relatively small, but loyal fan base, so it would be unreasonable for me to try to raise say $30,000 in this way.  With the platform I am using, you must raise 100% of your goal before you get any of the money.  PledgeMusic will look at the number of fans that you currently have and let you know if your goal is within reason.
4.  What are the hidden costs?
I am hoping to raise 100% of my expenses so that when I sell my CDs I can donate the full $20 to the food banks.  With every one of the fan funding platforms, there are costs that you have to consider.  For example, with Pledge Music they take a 15% cut of anything that you raise.  Also, if you are offering T-Shirts, or any kind of merchandise as an incentive for donations, then you have to raise the money to cover the cost of the item as well as shipping.  It all comes off the top!
5.  What will I offer as incentives?
With all of these platforms, you usually offer something to your backers in return for their contributions towards the project.  Typical incentives are digital downloads, CDs, T-shirts, tickets to shows, special CD launch events, on-line shows, private shows, CD credits…
These are the big ones for now.  Once I go through a campaign I am sure I will be able to tell you more about what I forgot!  I'll let you know how it goes!