The Legacy Project: Being in the studio
August 20th, 2013 by Katherine Moller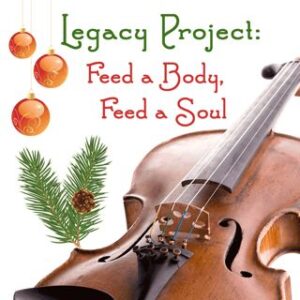 Last month I was in the studio to record my new Christmas CD "Greensleeves & Puddin' Pies".  I ran into one of my students the same day that I was headed to the studio, and she asked a couple of questions.  I thought perhaps I should share a little bit more about the process of being in the studio.
Skip Holmes (who is playing guitar and banjo on the CD) arrived on Wednesday, July 24th in the afternoon.  We ran through the pieces before heading to Outreach Productions where we recorded the CD.  One of the many things that I like about recording at Outreach is that Skip and I are able to be in separate rooms to record.  We can see each other through a glass partition and can hear each other through headphones, so we actually play at the same time, but there is no bleed through.  If we were to record while in the same room, the sound of the guitar would come through my microphone, and the sound of my fiddle would come through the microphone used for Skip.  With us in separate rooms, it means that we can easily re-record a fiddle part or guitar part without re-recording the other part too.
One of the questions that my students asked was if we finished one piece before moving on to the next.  That is indeed what we did.  We would work on one piece until we were happy with it.  Usually we would do several takes (each try at recording a piece is called a take), and then once we had a good take, we would listen through to decide if there were any smaller pieces that we wanted to fix.  Sometimes Andrew (the engineer) was able to work his magic with what we had already recorded, and some times we would re-record small chunks of the whole piece.
Once we finished recording all of the pieces, we went back to do some overdubbing.  Skip added some banjo and an extra guitar track to some of the pieces.  I went back into the studio on Thursday, August 1st to add some harmony parts to some of the tracks.
Being in the studio is unlike being on stage.  On stage you only have one chance to play something correctly, but when you record, it will be recording for posterity.  The challenge with being in the studio is getting the feeling of energy that you get on stage.  Sometimes when you listen to a CD you can hear that the musicians are being very careful to play everything perfectly, and there is very little energy.
Next up in the recording process is having the bass part added and then doing the mixing and mastering.  I will let you know how that goes!