The Business of Teaching
September 12th, 2018 by admin
The month of August was challenging for me mentally!  I decided at the end of last year to start treating my teaching studio more as a business.  I have been teaching in Fredericton now for 16 years!  In all those years I have really run my studio with the mentality of a stereotyped 50's housewife who is doing this for a little extra money, not as someone who is paying her bills through music!  I quit last day job in 2005 and have been supporting myself through teaching and performing for 13 years!
What did this mean?  This means actually writing up an official policy about lessons and cancellations.  This means having an official term start and end date instead of letting students start and end at their convenience.  This means having monthly equalized payment schedule, so I know what I can expect as income every month.
I have always struggled with having to be the bad guy.  I have always been very lenient about my cancellation policy, and even my past official policy really gave my students all of the power in negotiation.  This stems from the fact that I do perform and therefore I often have to cancel on students in order to go away for these performances; which in turn means that I have always felt like I have to give my students the same opportunity.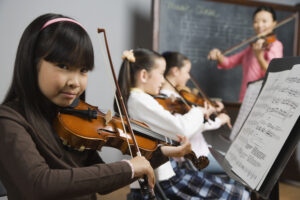 I also decided to put my prices up this year.  Every year the parents of my students would ask me if the cost was the same; and for many years now, the answer has been yes.  Now was the time.
So, I spent August worrying about how the parents of my students would respond.  I worried over my policies.  I worried about whether I was being fair.  I worried about the price increase…  Finally, the last week in August I sent out the news to my students.
What was I worried about?  I was worried that my students would come back to me with the response "You are not worth this new higher fee, and we refuse to follow your new cancellation policy."  Ok, I wasn't actually worried that anyone would say that to my face, but I was worried that they would all quit and then I would have gone through another month of worry, self-doubt, and beating myself up!
What did happen?  A few of my students quit.  Mostly students who weren't serious about it or who were not enjoying it anyway.  Did all of my students quit?  No!  Have students rebelled from my new payment system?  No!  As a matter of fact this makes it easier for all of us to know what they owe every month.   It is the same amount!
This is my pattern when I take new steps that scare me.  I spend time sticking my head in the ground not dealing with it head on, but worrying about it constantly.  Then, I take the brief amount of time that it actually takes to get the task done, and force myself to push through.  Very rarely in all of my ventures has anyone come back to me and told me that I am not worth what I am asking for or that I am unfair…  I hope that the next time I decide to take a step forward in my business that I can manage to do it without the month of worrying beforehand!
Comments are closed.