Tales from the Road – Whale vs. Boat
September 7th, 2010 by Katherine Moller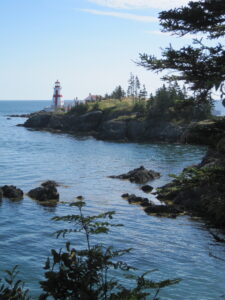 My band Different Folk (Kim Moller – vocals and bodhran, Will Toner – vocals and guitar and Katherine Moller – fiddle) performed at the Harbour Heard Lighthouse Day Festival on Campobello Island in August. The festival is a 1½ day celebration that begins with a concert on Saturday evening, this year held as an outdoor concert at the headland.
Kim and I arrived early for the sound check, and were able to sit and watch a pod of whales (we think they might have been right whales) as well as a couple of seals. The weather was beautiful and there was a large audience in attendance. They were sitting at picnic tables, in lawn chairs and in their cars. The show went very well until around 8:10pm when someone approached the stage looking for a cell phone. There was a boat sinking just of the headland. We asked the audience for a cell phone, and 911 was called. The show continued on as there was nothing that we could do to help. We wrapped the show around 8:30pm and found out that a boat had hit a whale.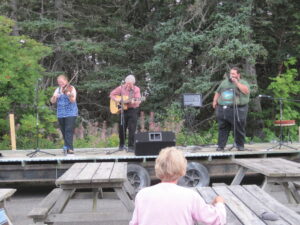 Kim, Will and I were fortunate enough to stay in the Owen House Inn. The next morning over breakfast we were told that the boat had hit the whale at full speed. It flew up into the air about 30 feet and then sank directly. The 5 occupants of the boat were all thrown into the water and were pulled out soon after. All of the occupants of the boat are fine, and as far as we know, the whale is fine as well. On Sunday we went back to the headland for more of the celebration. The events started at noon with Gary and Graham Cook followed by Different Folk, Brian Flynn and Claudette Norman. Other activities for the day included sales of local products, an auction and a talent competition. All in all we had a great weekend! This was our second year performing at the event. The people of Campobello and the Owen House Inn have really taken us in and have been treating us very well!