Salad to go
September 17th, 2012 by Katherine Moller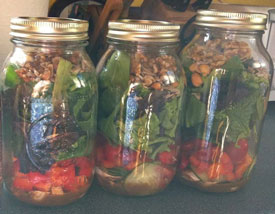 A couple weeks ago I talked about wanting to eat more veggies and reinstating the beer drawer. Step two of this whole system (now that my veggies are visible) is actually using them! Living the busy life of an independent musician, I am rarely home at mealtime!
This creates a great challenge with my desire to eat better! I have become a big salad-eater, but salads are not necessarily what you would imagine packing in your lunch. If you put the dressing on before you leave home, you are left with soggy lettuce, but it is inconvenient to bring along the whole bottle! What is a girl to do?
While surfing on Pinterest (I really hate to admit that since I am right in the demographic that uses Pinterest most!) I saw a post about "salad in a jar" and thought that it looked like a great idea. I have taken the idea and made my own salad.
In an effort to eat healthier food I have been trying out oil free salad dressings. I have also been obsessed with maple vinaigrettes ever since my cousin's wedding, the first place I ever tasted such a thing. This salad dressing is based on a recipe from Forks Over Knives but has been altered substantially.
Dressing:
3 tablespoons balsamic vinegar
1 tablespoon maple syrup
1 tablespoon mustard (I use honey mustard)
1 tablespoon agave nectar
Salad:
Makes 3 salads
30 thin slices of cucumber
1 diced red pepper
6 sliced small button mushrooms
1⁄2 small red onion, sliced thinly
several handfuls of lettuce
1/3 cup nuts or craisins (optional)
To make the salads, I like to use a liter mason jar. The recipe above will make three salads. I like to layer the ingredients from bottom to top as follows:
Dressing (2 Tablespoons per salad)
Cucumber
Red pepper
Onion
Lettuce
Nuts or craisins
The trick is to make sure that you keep the dressing is separated from the lettuce so you don't end up with a soggy salad! I like to put the cucumber next to the dressing because I find the vinegar actually pickles the cucumber a little bit. This means that instead of being soggy, the cucumber is actually nice and crisp when you eat it! Other items to put next to the dressing are anything that you don't mind marinating a bit.
There are many blogs about salads in a jar, and most suggest putting the nuts (if you want to include them) just below the lettuce layer. I tried this, and found that the nuts were soggy when I went to eat them (although that salad also included tomatoes and mandarin oranges), so I have moved them to the top. The nuts will push the lettuce down a bit and also can fall around the edges at times, but generally I have been happy with the results.
According to other blogs I have read, these salads stay pretty fresh for about four days. Honestly, I don't think I have had one last that long. I like to make them three to four at a time, but between my husband and me, we go through the salads pretty quickly!
As far as eating the salad goes, shake up the jar so the dressing cotes the veggies evenly. You can eat the salad right out of the jar, but I find it very inconvenient, so I like to take a bowl with me.
Do you have any suggestions for great ways to eat well on the run? Please leave a comment!