Hope for the Future: What I Learn from my Fiddle Students
February 5th, 2013 by Katherine Moller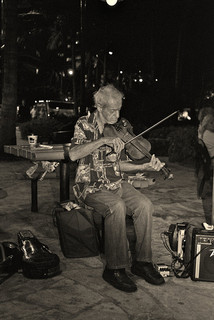 Today while I was teaching I started thinking about the future, and in particular, my future. I began thinking about this as I was teaching a new beginning student, a man 80 years of age. I teach students of all ages (today my youngest student was 4, and you have already met my oldest) and I enjoy them all for so many reasons.
In the past week I have had 8 new students join my studio, one 78 years old and another 80 years old. My two elderly students got me thinking about what I might be doing when I am that age, and what I hope to be doing. They are both charming, entertaining people who are not even sure that they should be coming to me for lessons, but wanted to try it out anyway.
They say that starting new things is a good way to maintain your brain activity and to develop new connections. I hope that I too will be trying out new things, and wonder what they will be. Will I start learning all the languages that I have been planning on learning? Will I take up some sort of sport? Will I continue learning new instruments? Will I be travelling? Maybe walking the Camino in Spain?
I hope to age gracefully, to still be out an about and to be as cheerful and charming as my two new students!
Please leave me a comment and let me know what you hope to be doing!
photo credit: JoePhilipson via photopin cc