Home Sweet Home – My Residency with the FAA
July 21st, 2014 by Katherine Moller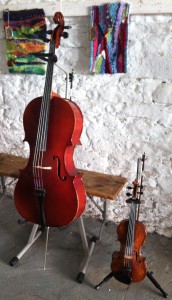 This is my fifth year of participating in the Fredericton Arts Alliance residency programme. For a whole week I get to spend 7 hours a day in the Casemates in Barracks Square in downtown Fredericton. This is an amazing experience for artists! The Fredericton Arts Alliance manages to secure funding to give two artists a week the chance to have a residency. This year my partner is Sarah Owen, a local fiber artist.
I have had grand plans on many occasions of writing a tune a week, or spending a certain amount of time each day working on writing and arranging new tunes. Somehow it never works out due to various distractions of life: doing dishes, playing on the Internet, watching movies… Nothing noble or exiting I am afraid, just the distractions of being at home. The great thing about the residency is that I am expected to be at the Casemates from 10am to 5pm each day, and there are no distractions.
My residency started on Saturday, July 19th. I have been working on writing some new fiddle tunes, but even more exciting is that I have been working on the cello. I have been practicing some fiddle tunes, but then also exploring writing tunes for the cello. This is my first foray into the world of writing for the cello. As the week progresses, I am hoping to work on some arrangements of the tunes I have already written making use of both instruments. I am looking forward to it! Hopefully I will have something to share with you soon!
Comments are closed.