Falling in Love Again: Being Reunited with my Violin
March 5th, 2013 by admin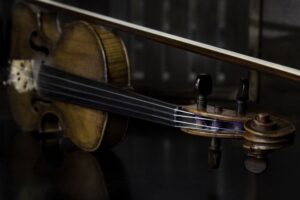 I have not been playing one of my violins for over year now.  This violin is the one that my parents bought for me when I was in university and is the instrument that I have used for most of my classical performances ever since.  Over a year ago, I noticed that the top was coming apart from the back near the neck of the violin.  I was worried about how much work was going to be needed to repair it as the front was actually bowing away from the violin.  I put off getting the repairs done because I did not want to deal with it.
I studied music at McGill University, and during my second year, decided that it was time to upgrade my violin.  My parents and I went to a luthier to check out some violins, with the plan just to look and not to buy anything right away.  This plan did not pan out, and I walked out with a new to me violin, a lovely Tyrolean violin made in the early 1800s.  I had fallen in love.
My violin and I were together for about 14 years without any issues.  My violin came apart near the neck, and I was worried about how much work might need to be done.  Usually, splitting seams are not all that big a deal and can be fixed relatively easily by a luthier.  I was worried as the front of my violin was actually bowing out away from the ribs.  I stopped playing the instrument because I was worried that continued contact with my hands would cause more damage.
Finally, shortly after Christmas 2012 I was able to send my violin to Montreal with friends to have it repaired.  The luthier called me to tell me that the repairs would not be all that major, and would only cost me a small amount.  It was a huge relief.
I got my violin back on February 19th, 2013, I was in the middle of a concert series with Symphony NB, so did not go back to playing my violin immediately.  I have since started playing this specific instrument again.  My violin did not sound the way I remembered, which was a little disappointing, but I had known that this situation might occur.   It had not been played in over a year, and also had been repaired.  Since then, I have been playing my violin as much as possible to try to get in touch with it again.
My violin and I have been getting along quite well, it is opening up and sounding warmer as time goes on.  As the sound has been improving, I have started remembering why I chose this violin over 15 years ago.  I am in the process of falling in love again with my violin!
Comments are closed.