Confessions of a Shy Fiddler
April 29th, 2013 by Katherine Moller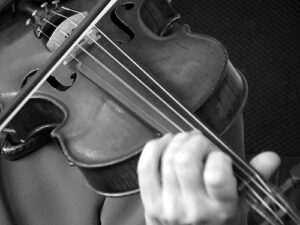 There have been a couple of big new items over the past couple of week.  On the East Coast, one of the big items was Rita McNeil's passing at the age of 68.  A music icon, she had an effect of many people's lives.
Over the past couple of weeks, many people have talked about how Rita McNeil overcame extreme shyness to become a performer.  This lead me to think about the fact that I was quite shy as a child, and many of my students are also very shy.  There are, of course, also many musicians and performer who are natural extroverts who love being in the spotlight.  What in the world is it that would lead a person who is shy to want to be the centre of attention on stage?
I am sure that all of our stories are different.  I know that for me, I love music and love sharing music.  I love the interacting with the other musicians, I love the interaction with the audience, and love the feeling energy from the audience feeding back to me.
One interesting aspect of being a performer is that by being on stage, you have more control over your environment than if you are in the audience.  This is especially true at times like St. Patrick's Day.  I know that I do not like being in a crowded pub, and generally would not want to go out if I was in the audience.  I don't like the uncontrolled crush of people.   On the other hand though, I love performing on St. Patrick's Day.   I have my own little space that is just for me and I can enjoy the energy of all the people who are out to have fun while sharing music with them.  For me it is perfect!
I am curious to see what happens with my shy students.  Given what I was like as a child, I certainly believe that anything is possible for them!  Anything is possible!
photo credit: misswired via photopin cc